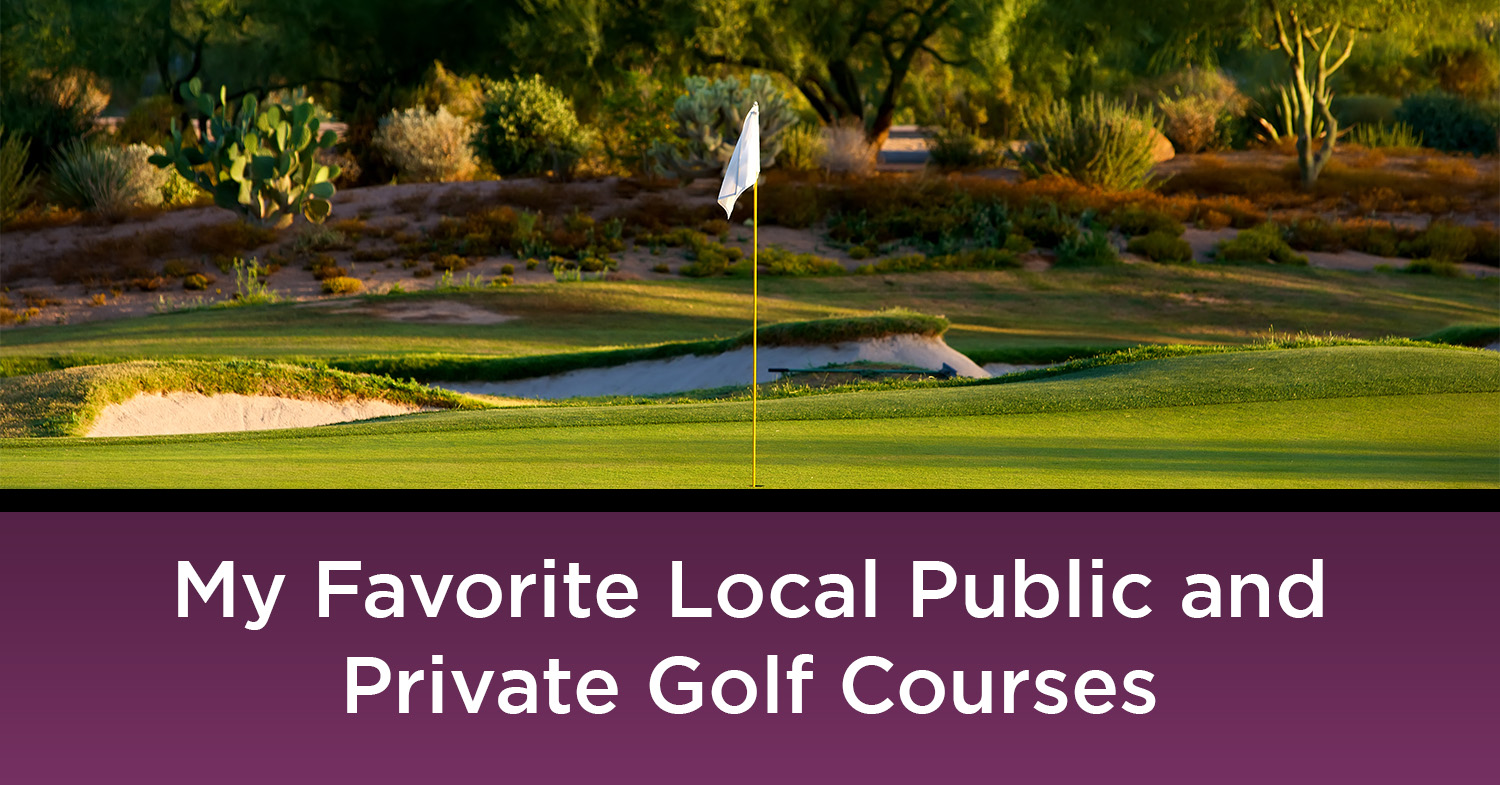 My Favorite Local Public and Private Golf Courses
There are so many amazing golf courses in the Phoenix area, it can be hard to decide which ones to play. To lend a hand, here are my favorite local public and private golf courses.
Public Courses
I hover around a 10 handicap, so I like a challenging course, but not too challenging. All three of these courses offer what I love the most: dramatic elevation changes, interesting layouts that include doglegs, water, and sand, and gorgeous desert scenery. Here are my top picks for public golf courses.
Dinosaur Mountain in Gold Canyon
The Dinosaur Mountain golf course is consistently rated among Arizona's top public courses, and once you play it, there's no question why. It offers a one-of-a-kind round with panoramic views, abundant wildlife, and dramatic elevation changes. It's a test of skills, but you enjoy every minute of it. The course will take you up, down, and around Dinosaur Mountain with long, loping fairways. Anyone who has not yet played this course is missing out on a great opportunity to experience the best.
Quintero in Peoria
Located just west of Lake Pleasant, this golf course is a scenic and playable delight. The desert terrain of the course features elevation changes that makes for interesting play. Throughout the course, there are wide fairways, multi-level bent-grass greens, strategic bunkers, and various water hazards. One of the more difficult holes on the course is hole 8, and is as much fun to admire as it is to play. This par-5 hole plays uphill alongside three large bunkers. All in all – this course is a must-play for any golfer looking for a fun challenge.
Rancho Manana in Cave Creek
This course is located just a few minutes from where I live and is one of Arizona's most scenic golf courses. It offers a par-70 championship course with dramatic elevation changes, unspoiled desert terrain, and the rustic charm of the historic old-school dude ranch, which is a part of the golf resort property. From the first fairway, each subsequent hole ventures upward, where one can witness some of the most breathtaking views. Low-handicappers might find this course poses a significant challenge, but it's not so tough other levels of golfers will be turned away. This is truly one of Arizona's best golf courses that represents the uniqueness of desert golf.
Private Courses
There are many fine private courses here, and I've been fortunate to play several of them. The private courses I love the most also offer fun challenges, changing elevations, interesting layouts, and scenic views. While there are plenty of great public courses here, these recommendations are for those that enjoy the club experience. Here are my top picks for private golf courses.
Desert Mountain Courses in Scottsdale
Desert Mountain is one of the most exclusive golf clubs in Scottsdale and is the only private club in the world to offer six Jack Nicklaus Signature Golf Courses plus a seventh short executive course. Each course provides a different golf experience and was designed for players of all skill levels. From the Cochise course that offers members a true test of skills with rolling fairways surrounded by water and desert rock outcroppings to the Geronimo course that features large elevation changes alongside incredible views, there's a little something for everyone.
Whisper Rock in Scottsdale
Whisper Rock Golf Club is tucked away in the North Scottsdale desert that features two 18-hole courses that are highlighted by outstanding mountain views, lush natural washes, and a rolling desert landscape. Whether you play the Upper or the Lower course, they are both classic courses that are beautifully maintained, fun, and at times, challenging. There aren't as many elevation changes in the course as others, but the challenge comes on and around the greens as they are tricky in spots. No matter which course you choose, Whisper Rocks offers a wonderful desert golf experience.
Desert Forest in Carefree
One of the highest-rated golf courses in Arizona, this is for the golf "purist." First and foremost, Desert Forest is a golf club, not a country club. There's no tennis or swimming in this club, just dedication to pure golf and the love of the game. This course is for those who love challenging green complexes. There is natural vegetation bordering the course to watch out for and six dogleg fairways, four to the right and two to the left. Desert Forest contains all the beauty, character, and challenging gameplay that makes Arizona golf one-of-a-kind, and this course is a must-play for any golf lover.
Selling or Buying a Home? Work with Someone Who Knows the Area
If you're looking to buy or sell your luxury home in the Far North Valley Phoenix area, it's crucial you work with someone who knows and loves the area. I live, work, and play in the Far North Valley and can give recommendations for the best golf courses and coffee shops, as well as provide vast knowledge about the real estate market.
I'm Luxury Real Estate Agent Darrell Doepke, and I'm ready to embrace your expectations as a seller or buyer. No matter if you're a first-time luxury seller or a repeat luxury buyer, you can rest assured that I have the experience to guide you through the real estate process with exceptional service. I specialize in the Far North Valley of the Phoenix luxury real estate market and would love to get in contact with you.