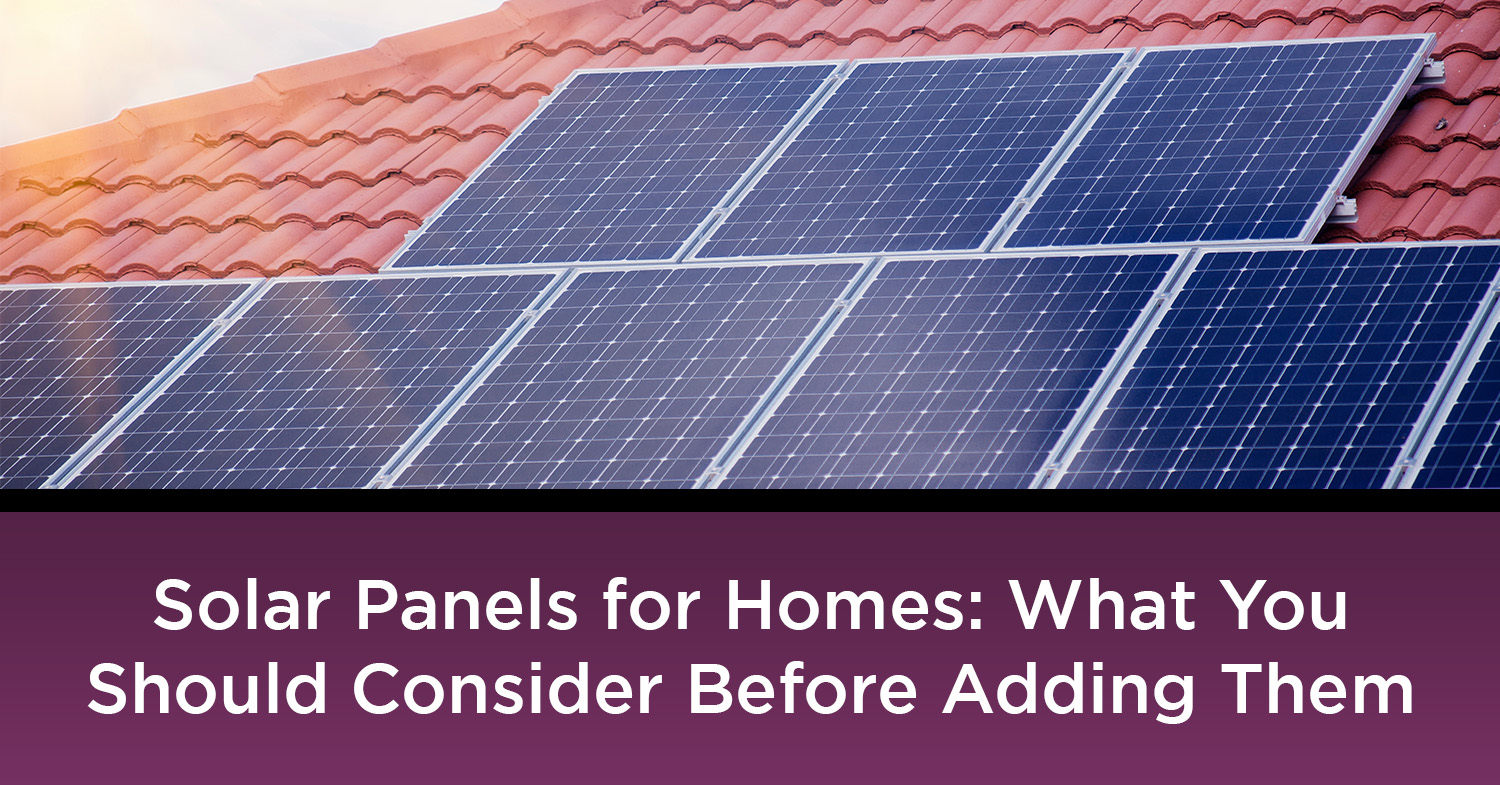 Solar Panels for Homes: What You Should Consider Before Adding Them
To add solar panels to your home, or not to add solar panels to your home…that is the question. To help you decide, here are a few things you should consider before adding them.
Solar in Arizona…is it Even Worth it?
As a homeowner, you may have asked yourself: Are solar panels worth it in Arizona? I can tell you, you're not the only homeowner in Arizona to ask yourself that! But what's the answer?
The truth – it can depend on your situation. While Arizona receives, on average, about 3,800 hours of sunlight a year (making it the sunniest state in the country), there's more to think about than just sunlight. Before you dive into this investment, here are some considerations to think about.
Considerations for Solar Panels for Homes
Current Energy Usage
First, it's essential to fully understand your home's energy usage patterns before you even think about adding solar panels to your home. Knowing how much your current energy bills are can help determine how much solar energy you need to generate. But that's not the only reason to investigate into your home's energy usage.
If your residency isn't very energy efficient and needs updates, such as window replacements or air duct repair, it'll be better to hold off on getting solar added. Adding solar to your home when it needs improvements will only cause to you pay more than necessary.
Roof Size and Slope
You may not think about your home's roof often, but if you're considering adding solar panels, that's about to change. A roof's orientation and size determine whether it can support solar panels or not. In fact, the direction and angle of your roof impact solar panel efficiency.
The ideal roof will be south facing and have an angle between 30 and 45 degrees to maximize the amount of sunlight your panels receive. You can certainly have solar panels on a roof that faces a different cardinal direction or is steeper than the angles recommended, but it could cost you greatly and turn out to not be worth it in the end.
Roof Age and Condition
A roof's age and condition can impact the installation process and solar panel efficiency as well. So you'll need to assess whether your roof is nearing expiration or in need of repairs. Installing panels over an aging or degraded roof could accelerate existing roof problems. Additionally, any repairs the roof might need in the future may require contractors to come and remove the solar panels before roof repairs can be done. This means coordinating and paying two separate contracting companies.
HOA Approval
If you live in a community with a Home Owners Association (HOA), you'll need to check whether any restrictions will prevent you from moving forward with your solar panel installation.
Arizona law prohibits HOAs from banning the installation of solar energy devices. But, the HOA can make it more difficult to make your solar panel dreams become reality. An HOA may adopt rules regarding the placement of a solar energy device that can impair the functioning of the device, restrict its use, or adversely affect the cost or efficiency of the device. Find out as much as you can about your HOA's rules before paying a deposit or signing a solar panel installation contract.
Budget and Financing
While solar panels for homes can provide significant savings in the long term, it doesn't come without an expensive initial investment.
There are financing options, like getting a lease or a power production agreement (PPA), but you need to make sure they will work for you. Meaning, ensure your payments don't escalate every year and that you have thought about the long-term implications. If you want to move and end your lease or PPA early, you may find yourself with early termination fees.
If you decide paying upfront is doable, don't forget you can get tax credits for adding panels to your home!
Amount of Sunlight
I mentioned earlier that there's more to think about than just sunlight when it comes to solar panels for homes…but the amount of sunlight your home gets is an important factor! If your home is shaded by buildings or landscaping, solar panels might not be right for you. Landscaping items like trees and saguaros can be removed and/or moved with the help of professionals, but that's another expense you'll need to consider. Regardless – knowing the amount of sunlight your home gets during peak hours will help you determine whether solar power would be a good addition to your home.
Selling or Buying a Luxury Home? I'd be Honored to Assist You
If you're looking to buy or sell a luxury home in the Far North Valley Phoenix area, it's crucial you work with someone who knows about the area, including knowing the answers to common questions homeowners have. I live, work, and play in the Far North Valley and make it my mission to be a resource of information for my clients so I can provide helpful answers, whether it's about the real estate market, the best coffee shops in the area, or what a homeowner should consider for solar panels for homes.
I'm Luxury Real Estate Agent Darrell Doepke, and I'm ready to embrace your expectations as a seller or buyer. No matter if you're a first-time luxury seller or a repeat luxury buyer, you can rest assured that I have the experience to guide you through the real estate process with exceptional service. I specialize in the Far North Valley of the Phoenix luxury real estate market and would love to get in contact with you.