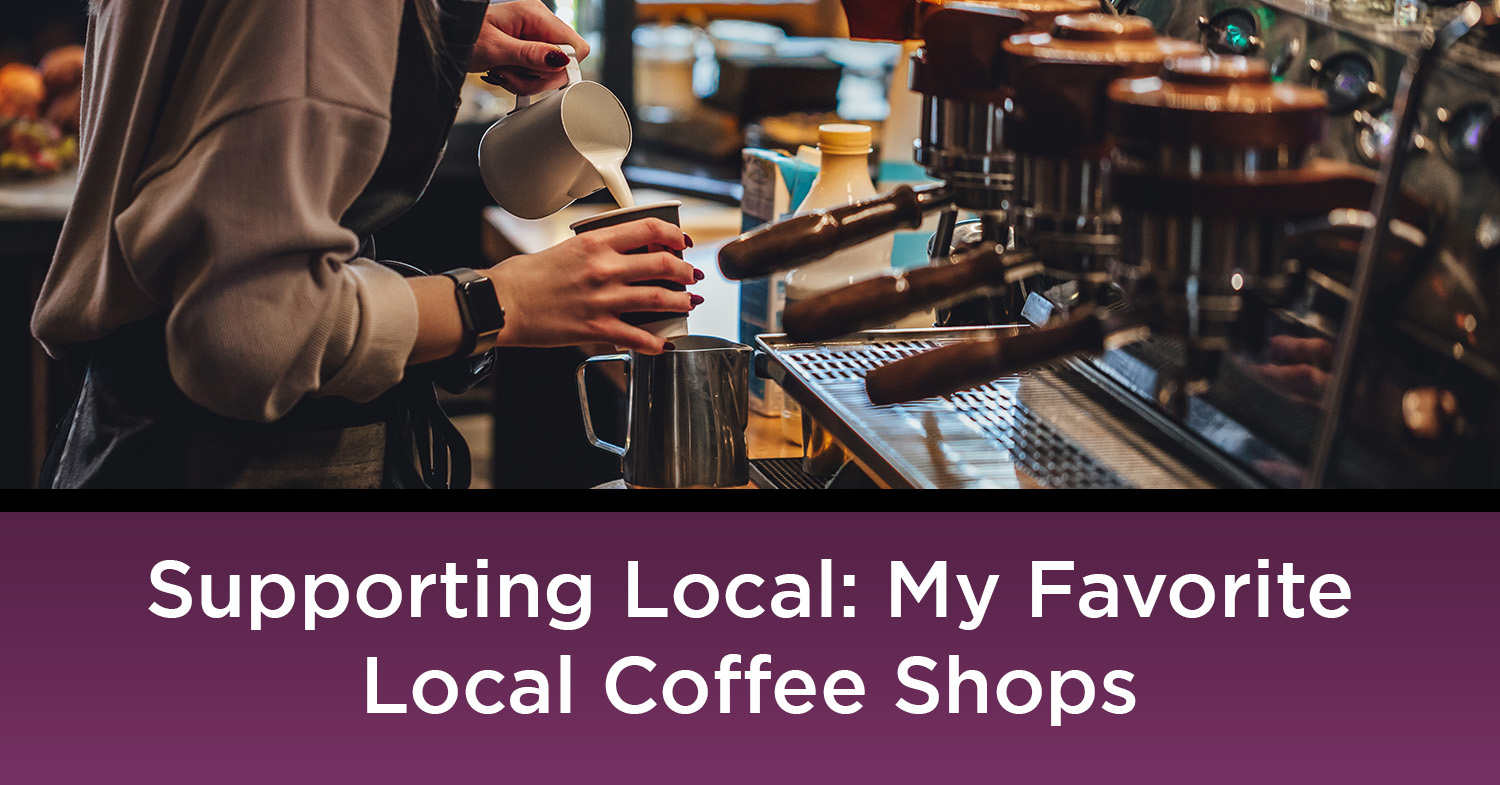 Supporting Local: My Favorite Local Coffee Shops
Whether you're new to the area or a local, there are some coffee shops you just have to pay a visit. Here are my favorite local coffee shops you must try.
My Favorite Local Coffee Shops
Carefree Coffee Roastery
At the corner of Tom Darlington Drive and Cave Creek Road, you'll find Carefree Coffee Roastery.
Here, they believe that a true coffee experience is in the details, and their attention to detail is unmatched. Owner Lars Hesse roasts his own coffee and bakes his own pastries on-site. He decorates the foam on his lattes with intricate designs such as swans and flowers. And he serves everything up with his genuine German accent and dry wit. If you're looking for a full breakfast and lunch menu with fresh, healthy options, don't worry, they have plenty of delicious options for you to choose from.
What I Order: My favorite pastry is called a streusel jammie, a Lars creation found exclusively at Carefree Coffee Roastery. I often serve them at my open houses.
The Grotto
Tucked behind the Red Truck Trading Company on Cave Creek Road, The Grotto has a classic rock vibe. Its walls are adorned with concert posters, album covers, and photos of bands from the '60s and '70s. And that's the kind of music they play in the cafe when they don't have musicians performing live on their cozy, shaded outdoor patio area. It's no wonder this family-owned business has become a local hot spot for locals and new guests of every age.
But the atmosphere isn't all this place has to offer. The Grotto serves locally roasted organic coffee, fresh bagels & pastries, along with breakfast and lunch options that are all made from scratch. No matter what you order, it's sure to be delicious.
What I Order: The huge scones they bake on site are legendary, as are the cappuccinos that Denise creates.
Local Jonny's
A local favorite, Local Jonny's is a family-owned eatery and a great spot to grab some food and coffee (or a beer). Whether you have a hankering for healthy food or comfort food, you'll find it here.
What I Order: The Southwest Sunrise sandwich is to die for, in my humble opinion. It's two over-medium fried eggs, ham, avocado, tomato, cheddar, and chipotle aioli on sourdough toast. I make a mess when I eat it, and I don't care; it's so delicious.
Janey's Coffeehouse and Bodega
Located along Cave Creek Boulevard, this is the scene for good food and live music every single night of the week on their beautiful outdoor patio. Saturday mornings from 9-Noon, you can enjoy your favorite cup o' joe and listen to live acoustic music by Glade Wilson and friends (including me!) who periodically chime in with a song or two. No matter what time of day you come, you can always count on incredible food, drinks, and atmosphere.
What I Order: I'm partial to their breakfast burrito.
Why You Should Work with a Local Real Estate Agent
Working, eating, and playing locally is something I love, especially when I get to do it in the beautiful Far North Valley. I've shared some of my favorite local coffee shops and golf courses…but why does that matter? And why is it imperative to work with a local real estate agent?
For people moving to Phoenix or even a different neighborhood for the first time, a real estate agent is often the first person they encounter from the area. And when you're looking for recommendations about schools or restaurants, a local real estate agent will be able to give you the best recommendations. Not to mention an intimate understanding of the unique nuances of the community you cannot find out about online.
At the end of the day: when you move anywhere, your local real estate agent is also your neighbor. They are involved and care about the community they live in. And as such, have an incentive to make sure they provide you with the very best service and ensure the very best outcome for your purchase or sale possible.
Selling or Buying a Home? Work with Someone Who Knows the Area
No matter if you're looking for the best coffee shops in the area or insights on the local real estate market, I'm here to assist you in your real estate needs.
I'm Luxury Real Estate Agent Darrell Doepke, and I'm ready to embrace your expectations as a seller or buyer. No matter if you're a first-time luxury seller or a repeat luxury buyer, you can rest assured that I have the experience to guide you through the real estate process with exceptional service. I specialize in the Carefree, Cave Creek, and North Scottsdale, Arizona, luxury real estate markets and would love to get in contact with you.