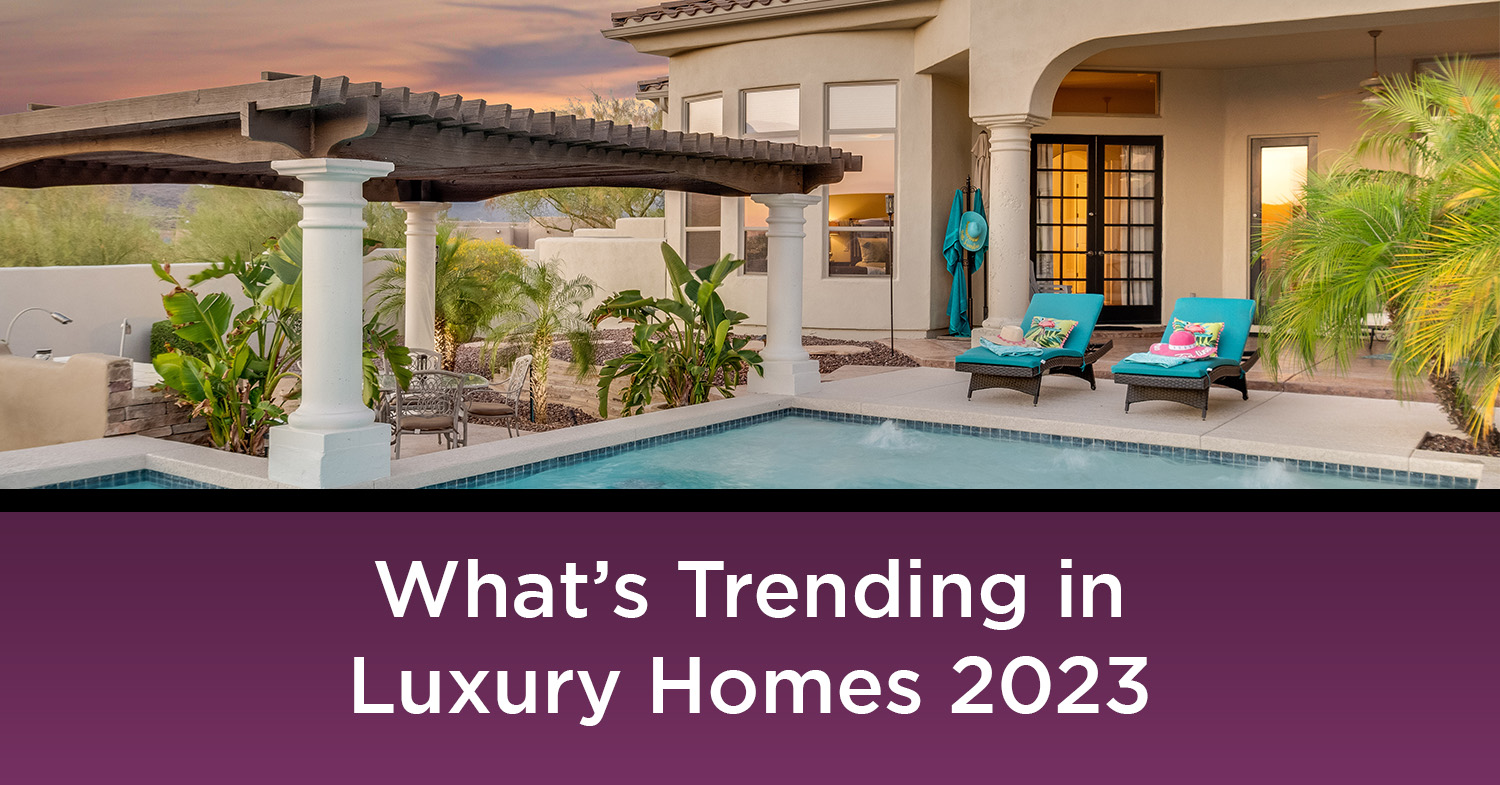 What's Trending in Luxury Homes 2023
It's always exciting to see what's trending in the luxury real estate market. And now that we're well into 2023, we can see what trends are the most popular. Whether you want to know what to keep your eye on or are just looking for inspiration, here's what's trending now in luxury homes.
Smart Homes
After a long day of work, the last thing many want to come home to is a cold, dark house. Smart homes have been on the rise in recent years, but this year, smart home technology has especially become a prominent feature in many luxury homes. And it's because we are now digitally more connected than ever – so why should we leave our home out of it?
With smart tech, you can be connected to your home and even control it from your smartphone. You can dim lights in your entryway, set the temperature on your thermostat, and heat the sauna in your spa bathroom, all while you're getting ready to leave the office.
And let's not forget the added bonus of a more secure home. Luxury buyers are often looking for homes with gated entrances, security systems, and other safety features. Luckily, smart home tech can easily offer that. Having a smart home allows you the luxury of being able to oversee security systems remotely, helping you keep your home secure no matter where you are.
Sustainable Features
Now that we're comfortable into 2023, it's apparent that sustainable features are becoming increasingly important to luxury buyers. As more people are becoming aware of their eco-footprint, we're seeing an increase in those looking for luxury homes with solar panels, energy-efficient appliances, and sustainable building materials. Expect to see a rise in materials like bamboo, cork, and reclaimed wood. While these materials bring touches of interest and distinction, they also have the added benefit of a low environmental impact.
The Return of Rooms
Open floor plans have dominated for years, but now, it's changing. It is becoming popular for home buyers to want separate spaces in their home. For some, this means finding a luxury home that has dedicated spaces, such as a dining room, living room, and kitchen. For others, it means taking this trend to the next level and building a separate entertainment house just for that purpose.
Home Offices
Speaking of separate rooms, one of those is the return of the home office. With remote work evolving into a more common practice, many luxury buyers are looking for homes with dedicated office spaces with high-speed internet, video conferencing capabilities, and other amenities to support a remote work lifestyle.
Outdoor-Indoor Living
Indoor-outdoor living has been popular over the past few years, especially during pandemic years when the only means of escaping was to your own backyard. Details like floor-to-ceiling windows and moving glass wall systems were what luxury home buyers were looking for.
But now, trends are showing it's starting to flip. Outdoor-indoor living sounds similar, but the application is different. We're now seeing nature being invited indoors. Think of homes with traditionally "exterior" materials being used in refined ways on the interior of homes. Stone, slate, textured walls, and limewash are becoming what homebuyers are gravitating towards.
Online Home Tours
As technology continues to advance, we're seeing two things: smart homes trending (as mentioned previously) and online home tours trending.
Again, during the pandemic years, we've seen this become increasingly popular, but it's only getting more so in 2023. That's because viewing luxury properties remotely is convenient for many, especially for those who are wanting to buy a home across the country. High-end homes can now be viewed in videos, sometimes even viewed in 3D with the help of virtual reality, to allow prospecting buyers to experience the property from anywhere.
Looking to Buy a Luxury Home? I'd be Honored to Assist You
If you're looking to buy a luxury home that incorporates 2023's top trends, it can often get overwhelming. I'd love to assist you in finding your perfect home that checks off all your boxes. I make it my mission to be a resource of information for my clients so I can provide the help needed, whether it's about the real estate market or some recommendations for my favorite coffee shops in the area.
I'm Luxury Real Estate Agent Darrell Doepke, and I'm ready to embrace your expectations as a seller or buyer. No matter if you're a first-time luxury seller or a repeat luxury buyer, you can rest assured that I have the experience to guide you through the real estate process with exceptional service. I specialize in the Far North Valley of the Phoenix luxury real estate market and would love to get in contact with you.